*****5.0 out of 5.0 Rating***** (Martindale-Hubbell)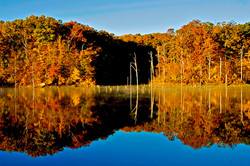 Lake Dunn (Village Creek State Park)
The law offices of Ford, Dooley, & Griffin are located in the heart of the Delta in Northeast Arkansas. Wynne, Cross County, Arkansas, is located approximately 45 miles west of Memphis, Tennessee. Our offices are located in the center of the legal community with our Cross County Sheriff's Department, the Wynne Police Department, Cross County Circuit Court, and the Cross County District Court, all located within walking distance from our law offices. We are focused on providing professional, ethical, quality legal services, and exemplary customary satisfaction. We have worked very hard over the years to earn the reputation of professionalism and integrity, which is why the majority of our clientele are by referrals and word of mouth.

We offer excellent legal representation at a very reasonable and competitive rate. We accept Visa, MasterCard, Discover, American Express, and offer a wide range of payment arrangements to meet your particular financial needs. Please feel free to contact Carter Dooley or Ty Griffin at (870) 238-2348 or by e-mail at cdooley944@sbcglobal.net for Carter Dooley or tagriffinlaw@gmail.com for Ty Griffin to schedule a free consultation.

*In the event of inclement weather, please visit our "Links" page, go to the website of KAIT8, visit business closings, and we
will have our updated hours of operation and/or a notification that our law offices are closed.

---